Meeting in Review May 6
MEETING IN REVIEW

Rotary Club of Washington DC
Meeting on May 6th 2020 at 6:00 pm (via Zoom)
Today's virtual meeting of Club members was opened by Pamela Stern Green, serving today as our Zoom platform moderator. After a few reminders about Zoom features, Pamela turned the microphone over to Club President, Lynn Holec, who called the meeting to order at 6:00 pm.
Steve Liston, our Program Committee chair, introduced today's speaker, Dr. Xanthe Scharff, Founder of The Fuller Project ( www.fullerproject.org ). In his introduction, Steve noted that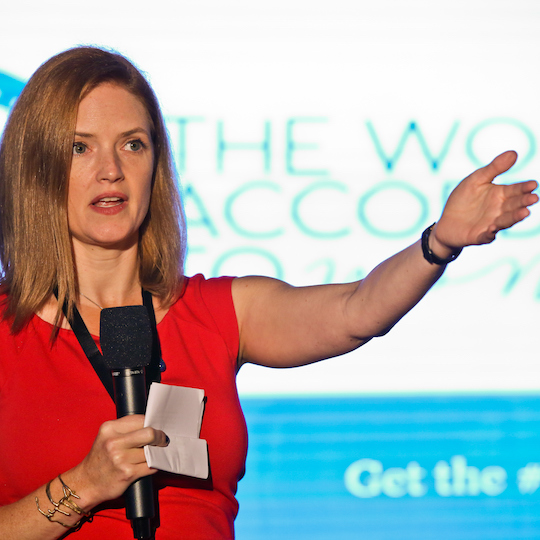 Dr. Scharff is a journalist and award-winning social entrepreneur, who in 2015 cofounded The Fuller Project with Christina Asquith in Istanbul to promote reporting on issues impacting Turkish and Syrian women. The Project is a nonprofit based out of Washington DC and builds its work on the power of "storytelling". To date, it has produced over 200 stories featured in the New York Times, Washington Post, Time magazine, Foreign Affairs and and other outlets.
As Executive Director at The Fuller Project, Dr Scharff co-leads a multi-award winning team of twelve journalists reporting from seven cities around the world, and builds editorial partnerships with the world's leading news outlets, including local news organizations in those cities and countries.
In opening her talk, Dr. Scharff noted it was her first time speaking to a Rotary Club and that she hoped to have a chance to return and meet us in person. She noted that her decision to found The Fuller Project came when she was living in Istanbul and came to realize the "women were doing heroic work" in the midst of the Syrian civil war, "but were not considered newsworthy". In part, this could be due to the fact that only 1 in 4 journalists is a woman. The objective of the Fuller Project is produce and share "newsworthy stories" about women with mainstream print media.
In these new "Covid-19 times", the focus of the Fuller Project has shifted toward the impact of the pandemic on the lives of women, both socially in assuming responsibilities for the education of their homebound children and economically in terms of lost employment, noting that the preponderance of service workers are women. Dr. Scharff concluded saying: "I really believe the most powerful thing is the human narrative, including news about local people we can relate to."
A lively Q&A session followed with questions from some 10 members. Then, President Lynn informed Dr. Scharff that we would be planting a tree in her honor, as a part of the Club's Trees for the Capital program.
Finally, Steve Liston chimed in saying: "A bunch of us would like to know when you will join our Club." Dr. Scharff responded in the affirmative and then shared the Fuller Project website: www.fullerproject.org and her email.
President Holec adjourned the meeting at 12:59 pm, after which a half dozen of us stayed online to test the Zoom "breakout" feature to be used at future meetings.
Respectfully prepared & submitted by Bill Dent