Member Spotlight: Oluchi Ogwurike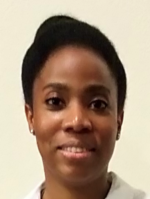 Read about DC Rotary Club member Oluchi Ogwurike in this week's Member Spotlight.
---
I grew up in Nigeria. My earliest memories of Rotary were receiving an award from the local Rotary Club on behalf of my primary school. I was about 10 years old at the time and intrigued by the existence of this selfless community. I also remember learning the four way test at the time. I believe this experience was pivotal to my desire to join Rotary as an adult.
I am currently in a family practice residency here in DC. Before this, I worked as a volunteer learning strategist helping students with learning techniques at St Georges' University in Grenada. The experience was inspiring and I loved being able to make a positive difference.

My interests include traveling and exploring new places, visiting museums, finding new places to eat, and creative writing.

Joining Rotary has helped me to be in a position to make a positive difference through numerous avenues available, actively give back to the community, and meeting some great people. I am continually impressed by the dedication and drive of my fellow Rotarians and this continues to inspire me.