Member Spotlight: Hannah Browne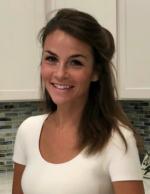 DC Rotarian Hannah Browne shares information about her background in this week's Member Spotlight.
---
I became a Rotarian in 2020 when I moved to Washington, D.C.
I was born the second of four children into a military family and moved around while my father pursued his Air Force career. Most of my formative years were spent in the panhandle of Florida in Niceville and Panama City.
In the last ten years, I have moved numerous times on my own. After leaving Panama City, FL, I moved to Manhattan, NY; Columbia, MO; Shawnee, KS; Little Rock, AR; Oklahoma City, OK; Minneapolis, MN; Jacksonville, FL; and now Virginia.
I attended Stephens College, a small all-women's school in the Midwest where I learned the basics of retail buying. Upon graduation, I was an Assistant Replenishment Buyer at Dillard's Inc. headquarters in Arkansas, managing men's inventory for 277 stores. In 2015, I chose to change career paths and began training as an Air Traffic Controller for the FAA. After successfully completing the first phase of training in Oklahoma, I was assigned to Minneapolis Air Route Traffic Control Center (ARTCC) to continue on-the-job training for a few years. After successfully completing radar training and becoming a fully certified Air Traffic Controller, I transferred to Jacksonville ARTCC to be in a warmer climate and closer to my parents.
I am now living in Virginia and working as a Space Operations Specialist in the FAA where our mission is to safely integrate space operations into the air traffic system.
In my free time, I enjoy gardening, volunteering, bike rides on the beach, and spending time with my family and dog, Stella.