Member Spotlight: Jak Kramer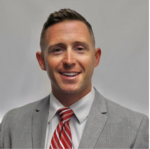 Read about DC Rotary Club member Jak Kramer.
---
Jak Kramer is currently a dual degree candidate at Georgetown University where he is pursuing an MS in Foreign Service and an MBA. His focus at the School of Foreign Service is in Arabic, Global Politics, & Security while his focus at the business school is Nonmarket Strategy. His undergraduate education was at Tulane University in New Orleans where he majored in Middle Eastern history with a minor in Jewish Studies. During his undergraduate studies he also studied Islam and Arabic at the American University in Cairo. Upon completion of his undergraduate studies, he was commissioned a Second Lieutenant in the U.S. Marine Corps.

Jak served as an infantry officer in North Carolina, Romania, Bulgaria, Latvia, Kosovo, and the Republic of Georgia during his first tour of duty in the Marines. He deployed twice in support of the Black Sea Rotational Force, a Security Corporation force designed to forward posture troops in Romania & Bulgaria to conduct military-to-military engagements with partner nations while providing the capacity for rapid crisis response capability to U.S. European Command and partners in the Black Seas, Balkan, and Caucasus regions. Jak's focus during these engagements centered around the employment of close air support, artillery, and infantry Marines to target armored threats. These engagements bolstered the United States' relationships with partner nations in order to collectively address common security challenges in the region.

Jak now serves as Captain in the Pentagon in the Marine Corps' Plans, Policies, & Operations Department where he analyzes data from Marine combat units globally and functionally to identify key insights to inform strategy development for future military actions.