Meeting in Review, September 15, 2021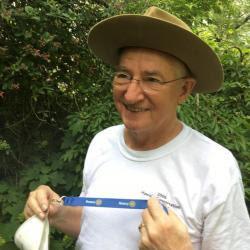 This week the Rotary Club of Washington, D.C. welcomed guest speaker

Dr. Christopher Puttock.
---
The Zoom meeting was opened at 12:15 PM for member fellowship.
President Bill Dent
welcomed participants, guests, and visiting Rotarians.
Sergeant-at-Arms Sterling Hoffman
presented the Four-Way Test and weekly inspiration. He recognized birthdays and anniversaries for the week.
President Elect Marilyn Nevy Cruz
presented about Hispanic Heritage Month.
Announcements:
September 18th World Peace Day Picnic (President Bill)

September 22nd Social at the home of Jill Kent (Mary Goldsmith)

September 25th City Blossoms Event (Khaled Sabah)

ISC Reminder - Celebrate Basic Education & Literacy Month (May O'Brien)

Rotarians for Equality for Black People (Sheldon Ray)
President Bill
introduced this week's guest speaker, Dr. Christopher Puttock.
Chris has three decades experience in environmental conservation and restoration. He is particularly concerned with the maintenance of ecosystems to function naturally, sustainably, and in preventing demise of ecological services by human exploitation reaching past the tipping point where nature is not permanently damaged. In Hawaii Chris was the liaison for 12 government and 4 NGOs managing 100% of the marine areas and 87% of the land of the Hawaiian Islands. Chris arranged the annual environmental conservation conference with more than 1000 attendees. In Maryland Chris runs a native plant nursery producing plants to sustain the native flora and fauna of the Chesapeake Bay Watershed. Chris is a regular speaker at meetings of botanical and native plant societies, master gardeners, master naturalist and garden clubs.
President Bill
adjourned the meeting at 1:30 p.m.