Meeting in Review, November 24, 2021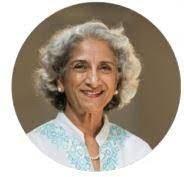 The Rotary Club of Washington, D.C. welcomed guest speaker

Dr. Geetha Jayaram, District Governor for District 7620 for 2021-2022.
---
The Zoom meeting was opened at 12:15 PM for member fellowship.
President Bill Dent
welcomed participants, guests, and visiting Rotarians.
Sergeant-at-Arms Sterling Hoffman
presented the Four-Way Test and recognized birthdays and anniversaries for the week.
Lisa McCurdy
shared a Member Moment.
President Elect Marilyn Nevy Cruz
presented the October Member of the Month Award.
Announcements:
Annual Campaign for the Rotary Foundation - Ken Kimbrough
December 16 Holiday Party at M Street Mansion - Mary Goldsmith
University Club, Next in-person meeting - Bill Dent
President Elect Marilyn
introduced guest speaker Dr. Geetha Jayaram, District Governor for District 7620 for 2021-2022.
A past Rotaractor and recipient of a 2005-06 Rotary Grant for University Teachers, she is a Professor of Psychiatry at the Johns Hopkins Schools of Medicine, Public Health, and Nursing. In 1997, from the Rotary Clubs of Columbia, & Howard West, Dr. Jayaram founded the Maanasi Clinic in Mugalur, Karnataka, India. She has volunteered for National Immunization Days for eradicating polio in India several times. She started 2 Rotaract clubs & her current Rotary Club of Howard West; increased membership in Rotary; taught as facilitator for the Rotary Leadership institute; and lectured at many Rotary District Conferences and Zone institutes throughout North America, Asia, and Europe. She has procured at least 20 grants for domestic and international Rotary work amounting to several million dollars.
President Bill
adjourned the meeting at 1:30 p.m.