Meet Our Speakers
The Rotary Club of Washington, DC is strategically located to gather the most prestigious group of speakers our nation's Capital can generate.  From Ambassadors, Business Executives, and Tribal Chiefs to an endless array of Champions of Change.  Our Club Members, and visitors to our weekly meetings, receive an impressive amount of intellectually-stimulating, heart-warming presentations each week.   Further, on this page, is a sample of speakers whom have recently spoken at our Club…
January 27th 2021 at 12:30 pm
Washington DC Weekly Club MeetingPlease join us for an performance by

Maestro Simeone Tartaglione and violinist Alessandra Cuffaro (husband and wife).
Simeone Tartaglione, Maestro Assistant Professor of Practice, Instrumental Music, Catholic University
Schooled in the European tradition covering conducting, composition, opera and chamber music, Simeone Tartaglione has become a versatile musician with a wide knowledge of and passion for the many areas of this art. He studied composition and conducting in Rome at the Santa Cecilia Conservatory and piano performance in Sicily at the Vincenzo Bellini Institute. In addition to his various degrees and honors, in 2003 he earned a Laurea as Doctor in Philology (Italian Literature and Musicology) Magna cum Laude, and is a published author. His 400 pages book on Italian contemporary music has been presented in the most important musicological forums, universities, conservatories in Italy since 2010.
Tartaglione currently holds a number of positions. At Catholic University in Washington DC he is Assistant Professor of Practice, conductor of the orchestra, Conducting professor and Orchestral Area Head. He serves as Music Director of the Delaware Youth Symphony Orchestra, Core Orchestral Department Head at the Music School of Delaware in Wilmington, Conductor of the Symphony at the Maryland Classic Youth Orchestras at Strathmore Hall in Bethesda, Artistic Director of ARIANNA Alliance in Wilmington, DE, and Artistic Director and Conductor of Musica Viva Kentlands Summer Festival in Gaithersburg, MD. In May of 2010 he became the Music Director of the Newark (DE) Symphony Orchestra.
After winning an audition at the University of Denver he moved there in 2005.
At the same university he became Adjunct Professor of Conducting while earning an Artist Diploma with Lawrence Golan. Over the next two years he worked as a guest conductor, vocal coach, pianist and harpsichord player with the Colorado Symphony Orchestra's Education and Outreach Programs, Central City Opera, Marilyn Horne Foundation, Denver Young Artists Orchestra, Colorado Youth Symphony Orchestra, Augustana Musica Sacra Orchestra, and Broadway Music School. He also served as cover conductor for the Colorado Symphony on a number of occasions.
Invited by Maestro Gustav Meier in 2006, Tartaglione moved to Baltimore where he continued conducting studies at the Peabody Conservatory of the Johns Hopkins University earning a Graduate Performing Diploma in 2009 with a conducting assistantship. From 2008 to 2010 he served as Adjunct Faculty for the Peabody Opera Department, coaching and conducting several performances, and most recently served as guest conductor for a production of Hansel and Gretel. In 2009 and 2010, he served as the Music Director of the Be Orchestra, a volunteer group of Peabody and other Baltimore area students and recent graduates that served populations such as the homeless and prisoners. Still in Baltimore he served as conductor of the Chesapeake Chamber Opera conducting several staged productions. Tartaglione also collaborated with Mid-Atlantic Symphony, Peabody Symphony, Peabody Opera, and Hopkins Chorus and on occasions he served as cover and back stage conductor for the Baltimore Opera and the Baltimore Symphony. He recently made his debut with Carmina Burana at a sold out Kennedy Center in Washington DC and at Disney Hall in Los Angeles. Simeone also conducted, live on CNN, orchestra and chorus for Pope Francis' last visit in Washington. In November 2019, he conducted Beethoven's 9th Symphony in honor of the 30th Anniversary of The Fall of the Berlin Wall, in the presence of the President of Germany and top officials from the United States Government and several other countries.
Tartaglione has recorded several CDs and DVDs as conductor and pianist in duo with his wife, well known violinist Alessandra Cuffaro, the first Italian woman and one of the very few in the world who performed all the 24 Paganini's Capricci in one concert. He and Ms. Cuffaro live in Montgomery County with their two young daughters.


Alessandra Cuffaro, M.M., Lecturer, Violin, Catholic University
"...Extremely tenacious...she plays with great care for sound, and has an elegant finishing touch, and musical phrasing to which we have to add strength of communication and the strong technique that is required to play the 24 Capricci" A.Cantu', music critic, journalist and writer.
"In her hands, the violin is transformed, becoming a creature pulsating with life..." G. Salvatori, music critic and journalist, RAI, Tg2, Cultura e Societa'.
"...An inimitable performer of Paganini... shaping the music with a pure expression that gushes out from the soul and that conquers..."Prize "Le Arti" P. Amatiello, Roma, Sala della Protomoteca del Campidoglio.
"A sublime interpreter of my music... and also of the music of others!" Franco Mannino
"...Alessandra Cuffaro is one of the most complete and ingenious musicians of the Third Millennium..." N.Nula, art critic and journalist.
She is the first woman in the history of Italian violinists to perform the most difficult virtuoso pieces ever written for violin, Nicolo' Paganini's 24 Capricci Op.1 in one concert.
She graduated in only six years (rather than the regular ten) at the Corelli Conservatory under the guidance of L. Fusconi. Her studies continued at the Accademia Chigiana in Siena with R. Brengola, and with S. Girshenko (D. Oistrach's pupil), and B. Canino in numerous workshops. In Rome, she earned her second degree in Chamber Music from the Santa Cecilia Conservatory, with Marco Lenzi with the highest honors. She earned also the Artist Diploma at the University of Denver with Linda Wang.
Alessandra has won many first-absolute prizes for her playing in national and international competitions. Her more than six hundred performances as soloist with orchestra, solo violin or chamber music, have been reviewed in American, Italian, Spanish, and French newspapers, radio and television. She plays alongside her husband, pianist and conductor Simeone Tartaglione, with whom she made many television appearances.
Ms. Cuffaro has taught several master classes in Italy and in the US. She has played all the 24 Capricci 23 times around the world, among the most important cities New York, Rome, Madrid, Boston, Denver, Assisi, Leon, Mantua. In 2008 she was celebrated among the most important Italian American of the present generation, with the Cultural Award by ILICA Foundation in New York City for her Paganini performances. The motivation on the prize says:
"To have promoted the most authentic Italian culture around the world: unique like Paganini"
In August 2009 she won the opening for one of the top violin positions in Italy, at the Palestrina Conservatory in Cagliari. In Nov 2011 she resigned to follow her husband in the United States and keep the family happily together.
Currently she is a violin faculty at The Catholic University of America in Washington, DC and at The Music School of Delaware.
---
February 3rd 2021 at 12:30 pm
Virtual Washington DC Weekly Club MeetingDistrict of Columbia Attorney General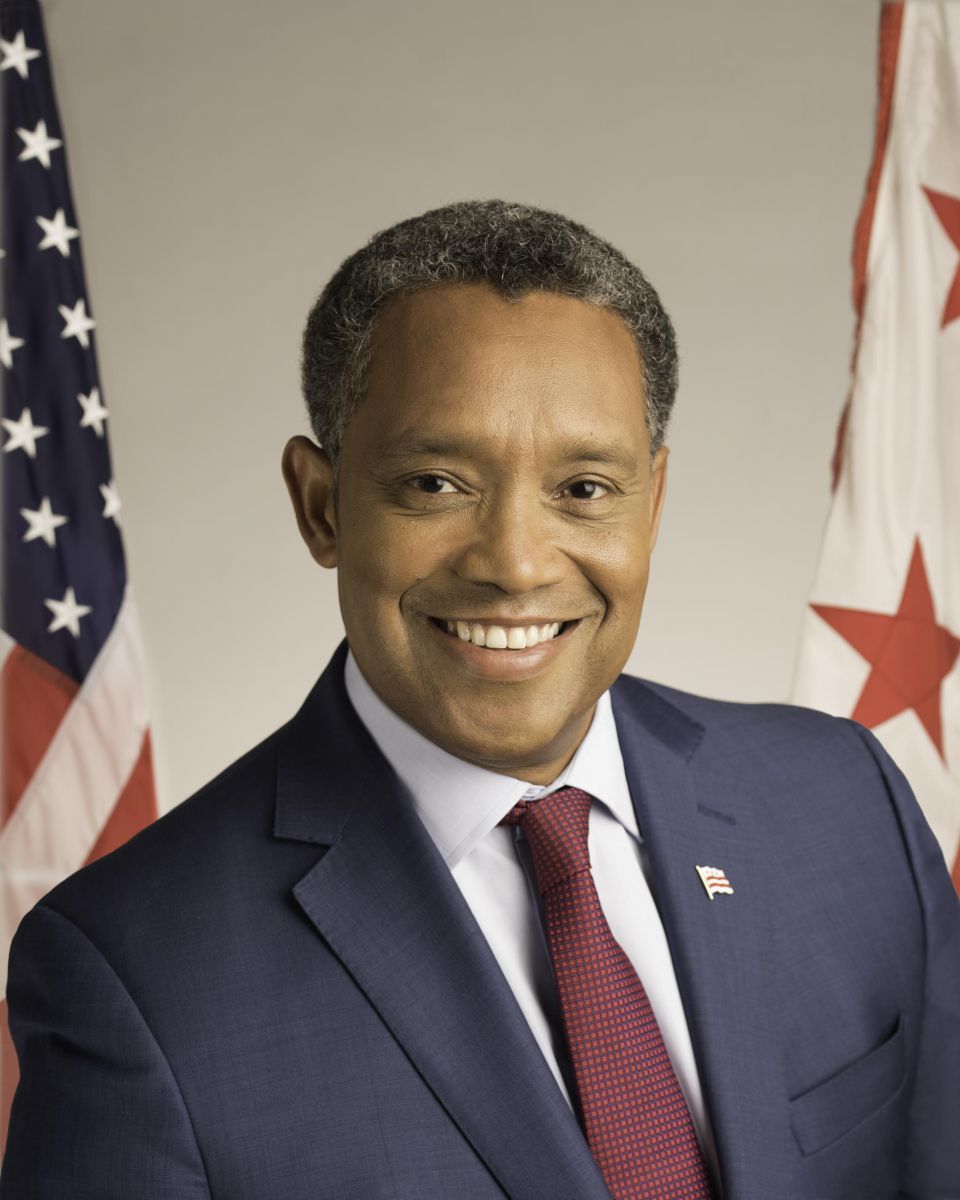 Karl A. Racine
Karl A. Racine was sworn in as the District of Columbia's first elected Attorney General in 2015 and was reelected to a second term in 2018. Attorney General Racine is honored to serve again and will use the next four years to expand work on priorities, including preserving affordable housing, employing evidence-based juvenile justice reforms, cracking down on slumlords, holding unscrupulous employers accountable for wage theft, and protecting consumers from scams and abusive business practices. He is also committed to making investments in new efforts to protect seniors and other vulnerable residents, interrupt violence in the District, address childhood trauma, and more.
Through his work as president-elect of the bi-partisan National Association of Attorneys General and as Chair Emeritus of the Democratic Attorneys General Association's Executive Committee, Attorney General Racine also speaks out for D.C. autonomy at the national level and pushes back against federal government policies that harm District residents.
Attorney General Racine draws on over 25 years of legal and leadership experience in his work on behalf of District residents. Over the course of his career, he has worked at the D.C. Public Defender Service, where he represented District residents who could not afford a lawyer, served as Associate White House Counsel to President Bill Clinton, and worked on criminal cases and complex civil litigation at private firms. While in private practice, he was elected managing partner of his firm, Venable LLP, and became the first African-American managing partner of a top-100 American law firm.
Born in Haiti, Attorney General Racine came to the District at the age of three. He attended D.C. public schools, including Murch Elementary, Deal Junior High, and Wilson High, and graduated from St. John's College High School. He earned a B.A. from the University of Pennsylvania, where he was captain of the basketball team, and a J.D. from the University of Virginia School of Law, where he volunteered in a legal clinic supporting the rights of migrant farm workers. His commitment to equal justice was inspired by his parents, who fled authoritarian rule in Haiti to start a better life in the United States, and by the lawyers of the Civil Rights Movement, who used the law to make positive social change.
---
February 10th 2021 at 12:30 pm
Virtual Washington DC Weekly Club MeetingSenior Advisor, Social Development, Gender & Diversity Division

Judith Morrison, Senior Advisor, Social Development, Gender & Diversity Division
Senior Advisor for Social Development in the Gender and Diversity Division. She has over 20 years of international development experience and previously served as a Regional Director at the Inter-American Foundation, Program Director at the Inter-American Dialogue, and Executive Director at the Inter-Agency Consultation on Race in Latin America (IAC). Her work focuses on the best approaches to reach poor and vulnerable communities in Latin America, with an emphasis on the economic development of indigenous and Afro-descendant peoples. She has extensive experience brokering investments with the private sector and communities throughout Latin America and developed the first private-sector eco-development fund in Brazil. She holds a master's degree in poverty alleviation and income distribution from MIT where she received the Carroll Wilson Award for international research and received a Woodrow Wilson Fellowship.
---
February 17th 2021 at 12:30 pm
Virtual Washington DC Weekly Club MeetingMediation Program Manager at Search for Common Ground and Rotary Peace Fellow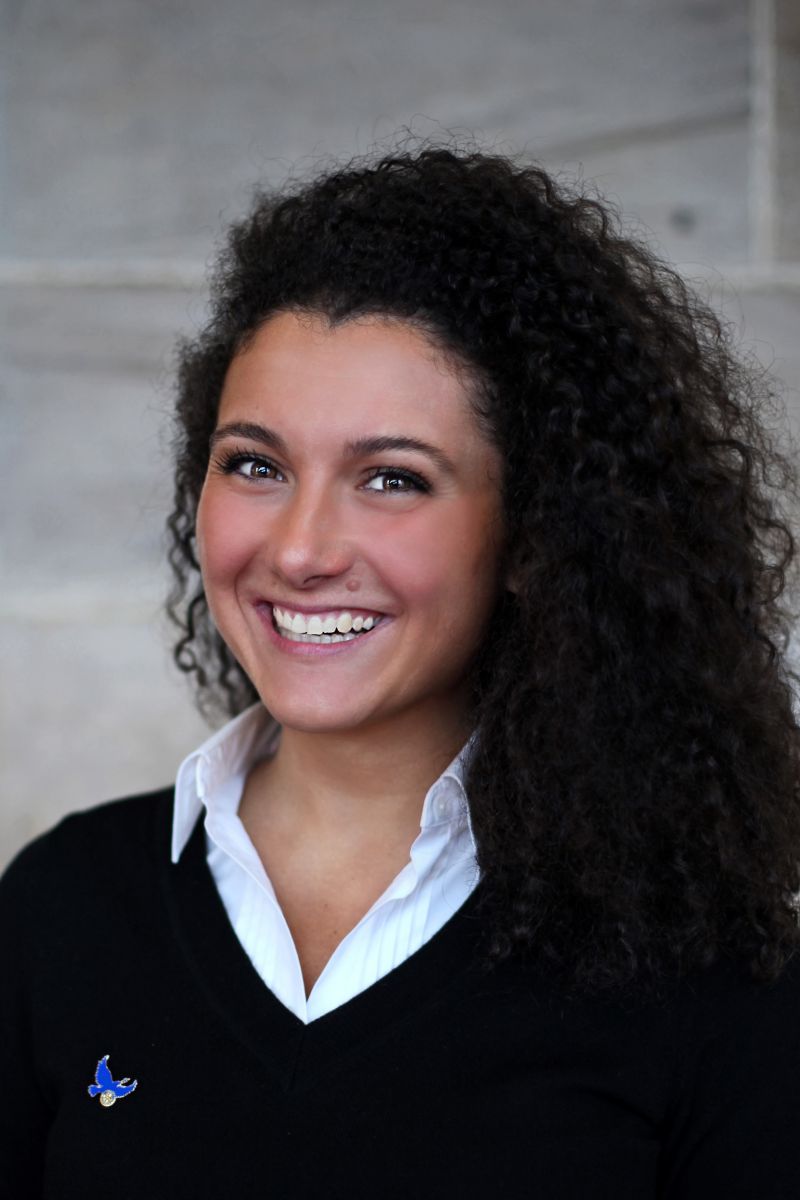 Rotary Peace Fellow, Claudia Maffetton
Claudia Maffettone is the Track II Mediation Program Manager at Search for Common Ground. She has led over 35 dialogue initiatives in support of US-Iran and US-Russian relations, the Syrian peace process, demining in Libya, and of broader inclusion in peace processes. She is an advocate for the advancement of the practice of mediation and leads an international consortium to support African insider mediators and their engagement in high-level processes. She is an experienced mediator, trained at the US Institute of Peace, PATRIR, Harvard Law School, and the New York City Bar, and a member of the Mediterranean Women Mediators Network. Previously, Claudia worked at Soliya, a pioneering organization in the field of virtual exchange and intercultural dialogue, advancing partnerships with educational institutions, NGOs and CSOs in the MENA Region, Asia, Europe, and North America. Claudia holds a BA in International Relations and Diplomacy from the Universita' degli Studi di Napoli 'L'Orientale', in Italy, and a MA Conflict Resolution from the University of Bradford in the UK, where is studied as a Rotary Peace Fellow.
---
February 24th 2021 at 12:30 pm
Virtual Washington DC Weekly Club MeetingDavid Fishman and Reem Ghunaim, President of Rotarians for Peace Action Group on Peace and Conflict Resolution
David Fishman

David Fishman, Rotarian from the Rotary Club of Alexandria, Virginia, District 7610, Zone 33, is experienced in domestic and international conflict resolution. His legal career encompassed labor relations and civil rights representation of management, individual and union clients, both public and private sector. Applying his international relations education, he's been a Visiting Scholar at GWU, Johns Hopkins SAIS, and George Mason University. Professional engagements abroad began with the Gorbachev era American Bar Association/Soros sponsorship of Soviet lawyer interns 1989-1991, some of whom are friends of 30 years from Russia, Ukraine, Georgia, and Estonia. Consulting clients have included the ABA during the Obama Medvedev Bilateral Presidential Commission, American Councils for International Education for a U.S.-Russia-Finnish academic and legal cooperation "platform", USG democracy assistance, rule-of-law and economic reform efforts, and private sector assignments. David is a member of the Steering Group of the ABA Section of international Law Eurasia-Russia Committee. Within Rotary since 2019, (Peace Conferences in Houston, and Hamburg, Ontario), he is active in RI InterCountry Committee cooperative efforts. These are both Russia-specific, (currently developing 'virtual' bi-lingual meetings), and broader, focused on Middle East peace-building, Iran, and how to help incoming Rotary leadership grow the membership and strengthen the impact of ICCs.


Reem Ghunaim
Reem Ghunaim is the Executive Director for the Rotarian Action Group for Peace based in Portland, Oregon. She is a Positive Peace Activator and a Global Peace Index Ambassador for the Institute for Economics and Peace. Reem started as a Rotaractor in Ramallah Palestine then earned a Rotary Peace Fellowship at UNC Chapel Hill – Duke Peace Center where she earned her master's degree in City and Regional Planning in addition to a certificate in International Peace and Conflict Resolution. She is now a Rotarian at the Portland Rotary Club.
Reem serves on the boards of several international organizations including: Rotary Club of Portland (one of the largest Rotary Clubs in the world), Hands of Peace (an organization that empowers youth to lead the solutions for peace between Israelis and Palestinians), Combatants for Peace (an international NGO and an egalitarian, bi-national, grassroots movement committed to non-violent action against the "Israeli occupation and all forms of violence" in Israel and the Palestinian territories), and Peace Village (an organization that creates access to peace education for children worldwide).
Reem has demonstrated leadership through several international projects and events. In 2018, she served on the organizing committee of the Environmental Sustainability and Peace Conference, one of Rotary International's six Presidential Peace Conferences and addressed by the Prime Minister of Canada, Justin Trudeau. She led the growth of the RAGFP Peacebuilder Club program from 22 clubs in the Pacific Northwest to over 240 clubs in over 30 nations in less than two years. Reem is currently co-organizing the Geneva Peace Project Incubator, a gathering that aims to produce 20 international sustainable peace projects in 10 focus areas. Reem co-designed the Middle East Peace Education Trip 2020 to establish an experience for an international audience to create a fair understanding of the challenges and opportunities for peace in Israel and Palestine. Reem has distinguished experience as a public speaker and has presented and promoted positive peace. As an Executive Director and Peace Fellow, Reem has led several Peace Tours in the United States, Europe, and Palestine where she spoke to several international audiences on topics addressing the social, political, economic, and cultural factors to peacebuilding.
During the first 3 months of the coronavirus pandemic, she pioneered a webinar series that inspired the wider Rotary community to initiate their online presence. She is the creator and host of the weekly Together for Peace webinar series which was designed to elevate social peace issues, create strategies for sustainable actions, and rebuilt trust in a world in isolation. In this series, Reem interviewed world-class leaders, including social entrepreneurs, inspiring Rotarians, organizational leaders, academics, peace activists, and Nobel Peace Prize nominees.
Reem is a prominent advocate for Human Rights, social entrepreneurship, technological innovation, creative arts, and economic development. Her interests are focused around bridging technology, positive peace, and Human Rights to build sustainable and effective solutions for peace around the world. She recently supported a data-driven study of COVID-19 policies and their impact on vulnerable populations as a machine-learning contributor. She conceptualized and developed the Activate Positive Peace workbook that illustrates the Eight Pillars of Positive Peace through real-life peace projects. This workbook was presented at the 2019 Rotary Convention in Hamburg, Geneva Peace Week 2019 at the United Nations, and posted to the Positive Peace Academy by Institute for Economics and Peace, the leading thinktank on measuring peace in the world. Currently, Reem is leading a Peace Project that builds a social-entrepreneurship hub for Palestinian youth to build innovative technological solutions to peace obstacles in their community.
Early in her career, Reem organized an international dance festival of traditional and contemporary dance to build mutual understanding and also worked to support community-based organizations and NGOs in the Palestinian Territories. Reem worked for the United Nations Crisis Prevention Unit in Fiji where she engaged in projects focused on economic development and peace. Throughout her career, Reem has worked closely with youth, artists, religious leaders, government representatives, entrepreneurs, activists, and organizational leaders to promote peace at the international and grassroots level.
Reem is an expert on the Israeli-Palestinian conflict. She was an ambassador of the OneVoice Movement where she lead a tour and spoke at prestigious institutions including, Harvard, Brown, and Columbia Universities, to support peaceful resolution in the Middle East.
---
Sampling of Our Past Speakers
The Rotary Club of Washington, DC would like to thank our past speakers for the engaging and motivational and informative presentations.
Bob Cusack
Editor in Chief, The Hill/TheHill.com
Reporting on politics and policy in the nation's capital since 1995, Mr. Cusack joined The Hill as Business and Lobbying Editor in 2003 and is now the newspaper's Managing Editor.  Mr. Cusack regularly appears on ABC, CNN, Fox News Channel and MSNBC as a political analyst.
Ambassador Mathilde Mukantabana
Ambassador of Rwanda to the United States
Prior to her appointment, Ambassador Mathilde Mukantabana was a tenured Professor of History at Cosumnes River College (CRC) in Sacramento, California from 1994 to 2013. She is also Co-Founder and President of Friends of Rwanda Association (F.O.R.A).
Manny Mandel
Holocaust Survivor

Emanuel "Manny" Mandel was born in Riga, Latvia, in 1936, the year in which his parents returned to their native Hungary. Manny's father had been selected to become one of the Chief Cantors…
Juan Williams
Fox Political Analyst and Author
Juan Williams is one of America's leading political writers and thinkers. Mr. Williams is a top political analyst for Fox Television, co-host of the daily talk show 'The Five' and a regular panelist for Fox News Sunday and Special Report.
James Chen
Institute for Global Engagement

James Chen is the Vice President of Global Operations at the Institute for Global Engagement (IGE). James first joined IGE in 2011, serving as both a Program Officer and the Executive Director…
Anne Midgette
Classical Music Critic, The Washington Post
Anne Midgette is a graduate of Yale University. She lived in Munich, Germany, reviewing opera, music, and art throughout Europe for The Wall Street Journal, Opera News, and other publications.  In 2008, she took over as the chief classical music critic for The Washington Post.